Telford-based firm Jo-El Electric has raised the alarm by ordering the recall of 10,000 carbon monoxide detectors because it fears the devices will fail in an emergency.

The detectors, sold in UK supermarkets and DIY stores for about £15, were meant to warn people of the presence of the deadly gas carbon monoxide.
Jo-El Electric launched the recall of one of its products (product number 822611 – model COA-001) because it said it "may not alarm in the presence of concentrations of carbon monoxide."
Jo-El Electric is urging people to stop using this particular product and return it to where it was bought in order to get a full refund.
The company is keen to highlight the danger posed by using this product and is aware that not everyone will read the recall notice and will wrongly believe they are protected from any CO leaks.
A spokesman for Jo-El Electric said "We have become aware of an issue with regard to the possible malfunction of a Jo-El carbon monoxide detector. "We apologise for any inconvenience caused in this matter, but please understand that the primary objective of this recall is safety".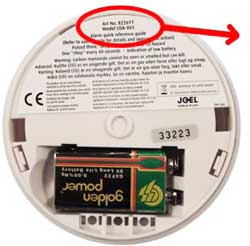 Jo-El Electric recalled product number 822611 – model COA-001